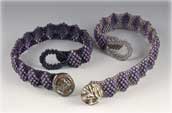 Ritvaliisa Ojanen
"Purple Beaded Bubble Bracelets"


Ritvaliisa Ojanen
"Embellished Squares Necklace"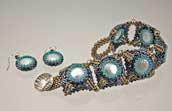 Ritvaliisa Ojanen
"Coin Medallions Turquoise Set"
April Artist of the Month
Ritvaliisa Ojanen
Exeter Fine Crafts is pleased to present Ritvaliisa Ojanen as our April Artist of the Month. Creating intricately woven bracelets, earrings and necklaces, Ritvaliisa's work features fresh water pearls, beautiful glass seed beads and semi-precious stones. Meticulously constructed, Ritvaliisa's pieces are one-of-a-kind, wearable works of art!
Having grown up in Finland, Ritvaliisa feels her design sensibilities have their roots in the minimalistic aesthetic of Finnish design. Inspired by size and shape of the beads themselves, Ritvaliisa relies on subtle color combinations, with small notes of contrasting color, and textures in her jewelry. Her stunning, flat ribbon-like bracelets and her three dimensional pearl designs are constructed using various combinations of off-loom seed bead weaving and stringing techniques.
All of Ritvaliisa's skills come into play when creating her woven jewelry, from the sewing and needlework she learned when still little; to her color theory and design lessons in art school and her experience as a ceramist. Her intricately woven bracelets are finished with unique handmade fine silver (Precious Metal Clay) buttons that make both the perfect closure and the perfect accent. In addition to her beautiful beaded bracelets, Ritvaliisa makes fine silver earrings and pendants.
After earning a BFA from Massachusetts College of Art, Ritvaliisa worked as a clay artist for several years, exhibiting in local and national galleries and shows. She also holds a Certificate degree in graphic design from UMass Lowell and has worked as a freelance graphic designer. Ritvaliisa's background in ceramics lends itself well to her Precious Metal Clay work. She is a Certified PMC artist and has been creating mixed media jewelry for over fifteen years. A juried member of the League of NH Craftsmen, Ritvaliisa's work can be found in fine craft galleries in New Hampshire and Massachusetts.
Please join us on Saturday, April 14th between 12 and 3pm when Ritvaliisa will be here to demonstrate her amazing bead weaving techniques!. Exeter Fine Crafts is located at 61 Water Street in downtown Exeter. Stop by Monday through Saturday 10-5:30, or Sunday 12-4. Call 603 778-8282 for more information.