Soosen Dunholter
Still Point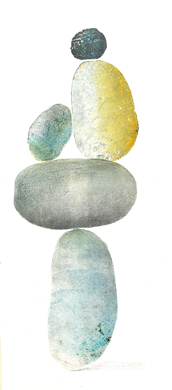 Soosen Dunholter
Equilibrium

Soosen Dunholter
Summer Nite
July Artist of the Month
Soosen Dunholter
Exeter Fine Crafts is pleased to present Soosen Dunholter as our July Artist of the Month. Known for her minimalist style that focuses on the interplay between form, color, and line, Soosen creates unique hand-pulled prints, encaustic and mixed media work.
As an abstract artist working in many different mediums, Soosen enjoys the confluence of chance and experimentation. Her unique designs unify her love of color and pattern with her desire for storytelling. Focusing her attention on creating surface texture, Soosen uses a burnishing technique combined with an etching press to add unique patinas to the paper's surface. She then continues to rework and add imagery with hand-pulled prints, scraps of antique papers, pencils, paint and/or direct transfer techniques. She enjoys this self-developed method as it allows her to invent a unique color palette that gives her greater control over the look of the final piece.
For Soosen's collagraphic monoprints, she starts by printing one of her handmade plates to create a base surface. She then adds collage elements, watercolor, or even sends it back through the press a second time. Many of Soosen's monoprints have gone through the etching press several times, building up layers of imagery with transparent inks on each pass. In the case of the Stone Cairn Prints, each individual stone represents a unique collagraph plate subsequently positioned into different arrangements creating "cairn families."
Never relying on a preconceived idea or preliminary sketch, Soosen utilizes a meditative or intuitive process in her collage and monoprint work. This approach allows Soosen to sort through the surrounding chaos until all the diverse elements fall into place. The final result is work that is not only harmonious, but also modern and contemporary.
Graduating with a BA in Fine Arts, Soosen's artistic career has evolved and continues to grow. Not only taking advanced level classes with master Printmakers and Painters, Soosen also attends a wide variety of workshops that allows her to experiment and explore a variety of philosophies, styles and mediums. Currently, she is a member of the Monotype Guild of New England, the Woman's Art Caucus, New England Wax and is the current chair of the Monadnock Community Hospital's Healing Art Gallery. An award winning artist, Soosen's work has been featured in solo and group exhibitions, in galleries and cultural centers throughout the country and in public and private collections around the world.
Please join us on Saturday, July 15th between 12 and 3 pm when Soosen will be here to talk about her artwork! Exeter Fine Crafts is located at 61 Water Street in downtown Exeter. Stop by Monday through Saturday 10-5:30, or Sunday 12-4. Call 603 778-8282 for more information.